Retrospective on past projects
---
DFG Research Training Group 1878 – Archaeology of Pre-Modern Economies
The Research Training Group was set up in 2013 and forms a collaborative project between the Universities of Cologne and Bonn that is funded by the DFG. It offers numerous PhD candidates and postdoctoral scholars multiple possibilities for research in an interdisciplinary and well-networked environment under the research focus of the economic systems and economic spaces of pre-modern societies.
Spokesperson: Professor Dr. Michael Heinzelmann, Archaeological Institute
Departments and Institutions of the Faculty of Arts and Humanities involved in the Group:
Archaeological Institute, Classical Archaeology
Archaeological Institute, Archaeology of the Roman Provinces
Institute for Prehistoric Archaeology
Department of Egyptology
Department of History I – Ancient History
Arbeitsstelle für Papyrologie – Epigraphik- Numismatik
Working Group Geo archaeology, Institute for Geography
Byzantine Studies and Modern Greek Philology
Web:
http://www.wirtschaftsarchaeologie.de/
https://archaeologie.phil-fak.uni-koeln.de/en/staff/professors/university-professors/prof-dr-michael-heinzelmann
---
Digital Scholarly Editions Initial Training Network (DiXiT)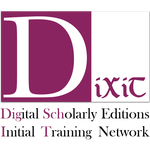 DiXiT is an international network comprising 25 globally renowned partners, public institutions as well as from the private sector funded under Marie Curie Actions within the European Commission's 7th Framework Programme. DiXiT promotes, supports and coordinates international fellowships, workshops, camps and conventions for both junior and experienced academics in the area of digital editing as an integral of Digital Humanities.
Participants:
Professor Dr. Dr. h.c. Andreas Speer, Thomas Institute of the University of Cologne (Network Coordinator)
Dr. Franz Fischer, Cologne Center for eHumanities (Scientific Project Manager)
Dr. Patrick Sahle, Cologne Center for eHumanities (Scientist-in-Charge)
International Partners (Selection):
University of Borås (HB)
Koninklijke Nederlandse Akademie van Wetenschappen (KNAW)
King's College London (KCL)
University of Antwerp (UA)
Graz University (GU)
National University of Ireland, Maynooth (NUIM)
École des Haute Études en Sciences Sociales (EHESS)
Università di Roma 'La Sapienza' (R1)
University of Oxford (UOX)
Web:
http://cordis.europa.eu/project/rcn/109100_en.html
http://www.thomasinstitut.uni-koeln.de/11516.html
http://cceh.uni-koeln.de/mitarbeiterinnen/
---
DFG Priority Program XPRAG.de
---
UoC Forum
The funding line "UoC Forum" supports academic exchange within the University of Cologne and between the University and the partners of the Research Alliance Cologne in workshops and lecture series. It is part Measure 2 - Excellent Research of the Institutional Strategy of the University of Cologne.
Forum "Strings & Structures: Codes of Sense and Function in Genomics and Linguistics"
Project Leaders:
Professor Dr. Thomas Wiehe, Institut für Genetik
Professor Dr. Jürgen Rolshoven, Institute for Linguistics

Duration: 01.01.2015 – 31.12.2016
Forum "Ethnicity as a Political Resource: Perspectives from Africa, Latin America, Asia, and Europe"
Project Leaders:
Jun.-Professorin Dr. Michaela Pelican, Institute for Ethnology
Dr. Albert Manke, Department of History

Duration: 2013 – 2016
Forum "Cultural Heritage in Africa and Asia - Discourses and Practice"
Project Leaders:
Professor Dr. Anne Storch
Dr. H. Felber

Duration: 01.01.2014 – 31.12.2015
---
Forum "Linguistic Awareness in Teacher Education Based on Geographical Media"
Project Leaders:
Professor Dr. Alexandra Budke, Seminar für Geographie und ihre Didaktik
Jun.-Prof. Dr. Magdalena Michalak, Department of German Language and Literature II

Duration: 01.01.2014 – 31.12.2015