Rückblick auf abgeschlossene Projekte
---
DFG-Graduiertenkolleg 1878 – Archäologie vormoderner Wirtschaftsräume
Das seit 2013 von der DFG geförderte Graduiertenkolleg bildet ein Gemeinschaftsprojekt der Universitäten Köln und Bonn. Das Kolleg bietet zahlreichen Doktorand*innen und Postdocs umfangreiche Möglichkeiten zur Forschung in einem interdisziplinär ausgerichteten und exzellent vernetzten Umfeld unter dem Forschungsschwerpunkt der Erschließung von Wirtschaftssystemen und Wirtschaftsräumen vormoderner Gesellschaften.
Beteiligung: Herr Professor Dr. Michael Heinzelmann, Archäologisches Institut (Sprecher)
Beteiligte Institutionen der Philosophischen Fakultät:
Archäologisches Institut, Abt. Klassische Archäologie
Archäologisches Institut, Abt. Archäologie der Römischen Provinzen
Institut für Ur- und Frühgeschichte
Seminar für Ägyptologie
Historisches Seminar I – Alte Geschichte
Arbeitsstelle für Papyrologie – Epigraphik- Numismatik
Arbeitsgruppe Geoarchäologie, Geographisches Institut
Abteilung Byzantinistik und Neugriechische Philologie
Web:
http://www.wirtschaftsarchaeologie.de/
https://archaeologie.phil-fak.uni-koeln.de/personen/professoren/universitaetsprofessoren/prof-dr-michael-heinzelmann
---
Digital Scholarly Editions Initial Training Network (DiXiT)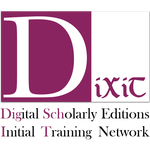 DiXiT ist ein international weit verzweigtes und im Rahmen der Marie Skłodowska-Curie Actions der European Commission umfangreich gefördertes Forschungsnetzwerk bestehend aus über 25 global renommierten Partnern sowohl des öffentlichen Bildungswesens als auch des privatwirtschaftlichen Bereichs. DiXiT fördert, unterstützt und koordiniert internationale fellowships, workshops, camps und conventions für Nachwuchswissenschaftler und erfahrene Wissenschaftler im Bereich Digitale Editionen als integralem Bestandteil der Digital Humanities.
Beteiligungen:
Herr Professor Dr. Dr. h.c. Andreas Speer, Thomas Institut der Universität zu Köln (Network Coordinator)
Herr Dr. Franz Fischer, Cologne Center for eHumanities (Scientific Project Manager)
Herr Dr. Patrick Sahle, Cologne Center for eHumanities (Scientis-in-Charge)
Internationale Partner (Auswahl):
University of Borås (HB)
Koninklijke Nederlandse Akademie van Wetenschappen (KNAW)
King's College London (KCL)
University of Antwerp (UA)
Graz University (GU)
National University of Ireland, Maynooth (NUIM)
École des Haute Études en Sciences Sociales (EHESS)
Università di Roma 'La Sapienza' (R1)
University of Oxford (UOX)
Web:
http://cordis.europa.eu/project/rcn/109100_en.html
http://www.thomasinstitut.uni-koeln.de/11516.html
http://cceh.uni-koeln.de/mitarbeiterinnen/
---
DFG-Schwerpunktprogramm XPRAG.de
---
UzK Forum
Die Förderlinie "UzK Forum" dient der Unterstützung des wissenschaftlichen Austausches innerhalb der Universität zu Köln und der Partner der Research Alliance Cologne im Rahmen von Workshops und Vorlesungsreihen. Sie untersteht der Maßnahme 2 – Spitzenforschung des Zukunftskonzeptes der Universität zu Köln.
Forum "Strings & Structures: Codes of Sense and Function in Genomics and Linguistics"
Projektleiter:
Herr Professor Dr. Thomas Wiehe, Institut für Genetik
Herr Professor Dr. Jürgen Rolshoven, Institut für Linguistik

Dauer: 01.01.2015 – 31.12.2016
Forum "Ethnicity as a Political Resource: Perspectives from Africa, Latin America, Asia, and Europe"
Projektleiter*innen:
Frau Jun.-Professorin Dr. Michaela Pelican, Institut für Ethnologie
Herr Dr. Albert Manke, Historisches Institut

Dauer: 2013 – 2016
Forum "Cultural Heritage in Africa and Asia - Discourses and Practice"
Projektleiter*in:
Frau Professor Dr. Anne Storch
Herr Dr. H. Felber

Dauer: 01.01.2014 – 31.12.2015
---
Forum "Linguistic Awareness in Teacher Education Based on Geographical Media"
Projektleiterinnen:
Frau Professor Dr. Alexandra Budke, Seminar für Geographie und ihre Didaktik
Frau Jun.-Prof. Dr. Magdalena Michalak, Institut für Deutsche Sprache und Literatur II

Dauer: 01.01.2014 – 31.12.2015