This degree programme is not fully described in English. For more and legally binding information, please select "Deutsch" in the top right menu (globe).
Art History
Bachelor of Arts (B.A. Dual Major)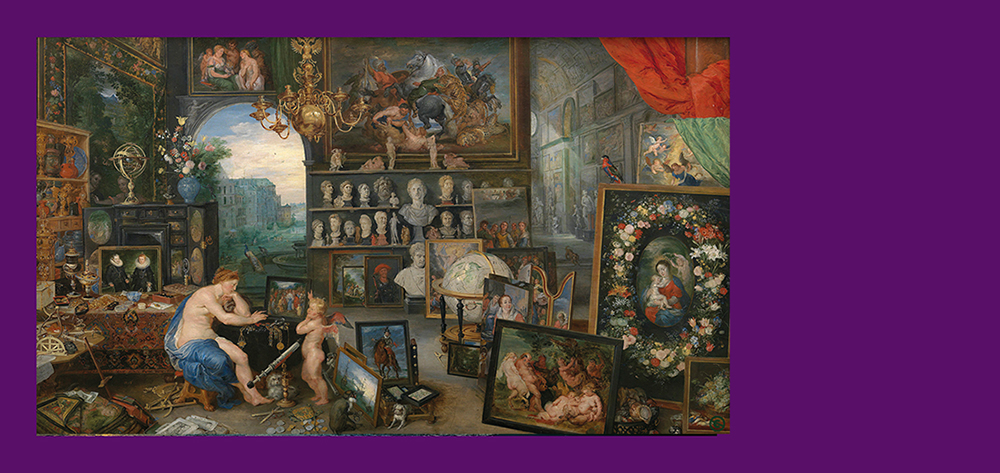 | | |
| --- | --- |
| Regelstudienzeit | 6 semesters |
| Beginn | Winter semester |
| Zugangsbeschränkung | Ja |
| Unterrichtssprache | German |
| Credit Points / Leistungspunkte | Subject A: 78 CP + Subject B: 78 CP + integrated Degree: 12 LP + Bachelor's Thesis: 12 CP = 180 CP |
Course description
Is every building considered to be a piece of architecture and is every painting considered to be art? Can a pillar be considered ornamental, a piece of felt a sign, a tea bag a medium and a sculpture a metaphor?
How can you convey knowledge from the study of art history – through a talk, presentation or text?
What history does art history itself have as a historical discipline? And what significance does this history have for our current understanding of art, its origins and our appreciation of it?
What connections are there to other academic disciplines and themes – to culture, politics, society, philosophy, religion, media and technology?
You will learn how to develop these types of questions and answer them using illustrative analyses of artwork on the art history degree. Alongside the study of artworks and art theory in the classical sense, the programme focuses on diverse kinds of images and visual phenomena in a cultural context – from ornamental walking sticks through to X-ray images. Analysing objects and working with specialist literature and written historical sources also form an essential part of the degree.

Art history in Cologne
The department in Cologne offers an exceptionally broad range of courses that cover all subject areas and epochs from the Middle Ages through to contemporary art. Main areas of focus include medieval book illuminations and treasury art, research into 16th and 17th century Dutch history, building research and preservation of historical monuments, the theory of contemporary image media and media history and the history and theory of photography.
The Department of Art History is actively involved in the "Medieval Studies" and "Modern Research" research centres at the university. In addition, the department in Cologne cooperates with numerous museums that house an exceptional variety and density of important works of European and international art across all epochs. Many of the lecturers at the Department of Art History in Cologne have professional experience in a related occupation (museums, preservation of historical monuments, art trade).
You will have ample opportunity during your degree to develop your future career prospects, make contacts and actively participate in research and exhibition projects.